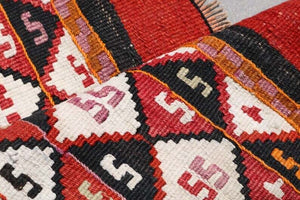 Kilim/Soumak Rugs
---
Kilim rugs stand apart from traditional rugs due to their distinctive flat-woven weave, which lacks a pile. This unique characteristic makes them an attractive choice for those seeking lightweight simplicity while still maintaining a deep connection to the heritage of rug craftsmanship.
Investing in a rug is a significant decision, and durability should be a top consideration. Handmade Kilim rugs, owing to their weaving technique, tend to be more robust than machine-made counterparts.
Additionally, Soumak rugs (also spelled Sumak) employ a similar flat-weave technique but are even thicker, stronger, and exceptionally durable. Unlike Kilims, Soumak rugs aren't reversible due to the presence of non-clipped yarns on the back, but this feature contributes to their added strength.
Both Kilim and Soumak rugs offer a unique blend of cultural significance and enduring quality, making them valuable additions to any space.