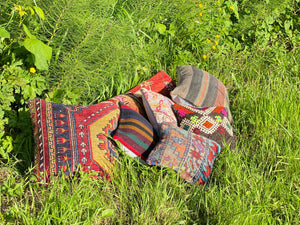 Kilim Throw Pillows/Benches
---
Kilim Pillows are cut from Turkish Vintage kilim rugs. This makes them unique so you will never find two that are exactly the same.
Our collection of Kilim pillows are made by a Turkish Anatolian Woman who was given some vintage rugs as a wedding present by her mother. She learned to sew from her mother as she was a master Anatolian Artisan in her village.
Because they are made ethically, sometimes you may find some imperfections and we consider these to be part of the wonderful charm of vintage goods and hope that you do too!