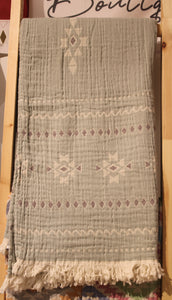 Comfort Organic Cotton Blankets
Regular price
Sale price
$165.00
---
HIGHLIGHTS:

- Turkish Organic Cotton Muslin Blanket
- Lightweight and Breathable
- Size: [Insert Size Here]
- Sustainable and Chemical-Free
- Versatile Use
- Exquisite Turkish Craftsmanship

DESCRIPTION:

Experience the epitome of comfort and luxury with our Turkish Organic Cotton Muslin Blanket, meticulously handcrafted to provide a soft and soothing embrace. Crafted from the finest organic cotton, this blanket perfectly harmonizes exquisite craftsmanship with a strong commitment to sustainability.

Our Turkish Muslin Blanket is woven using a traditional technique that results in a lightweight and breathable fabric with a distinct texture. The delicate open weave facilitates excellent airflow, making it an exceptional choice for year-round use. Whether you're seeking warmth on a chilly evening or a light cover for warmer seasons, this blanket envelops you in a gentle cocoon.

The organic cotton used in crafting this blanket is grown and harvested without harmful pesticides or synthetic fertilizers, guaranteeing a natural and chemical-free product. This choice not only promotes your well-being but also advances sustainable practices that prioritize both environmental health and the welfare of farmers involved in the production process.

The versatility of our Turkish Organic Cotton Muslin Blanket is boundless. Its generous size offers ample coverage for your bed, couch, or as a cozy wrap for picnics and outdoor escapades. The range of natural color options exudes understated elegance, effortlessly blending with any interior decor or personal style.

Beyond its practicality, this blanket stands as a tribute to Turkish craftsmanship's artistry and legacy. The intricate weaving technique and meticulous attention to detail create a visually captivating design, infusing your living space with an air of sophistication.

Indulge in the gentle embrace of our Turkish Organic Cotton Muslin Blanket, knowing that you are wrapped in the purity of organic materials and the heritage of traditional craftsmanship. Revel in the unparalleled comfort and tranquility that accompanies choosing a blanket thoughtfully sourced and expertly crafted with sustainability in mind. Elevate your moments of relaxation and create a sanctuary of serenity with our luxurious Turkish Muslin Blanket.

CARE INSTRUCTIONS:

To ensure the longevity of this exquisite blanket, machine wash it in cool water using a gentle cycle. Opt for air-drying or tumble drying on low heat to maintain its quality. Avoid using bleach or harsh detergents, as they may compromise the organic nature of the fabric.